A drill hall is best described as a purpose-built military building, providing a space sufficiently large for soldiers to practice marching, drilling and 'the knotty points of tactics'
1
.
As a large room, heated and well lit with various facilities to hand, it was often let for dancing, concerts, entertainments and bazaars. This provided the committee-run hall with valuable income, or the local worthy with a sense of civic pride as he allowed the community to enjoy his architectural gift.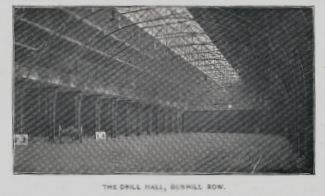 The size of this main room varied. Stourport's measured 80'5" by 40'2", and Penrith's was similar in dimensions, while Chester Drill Hall contained 'a lofty and spacious room, 100 feet long and 60 feet wide' and Stockport was proud of its 180 feet long 'drill shed', as was Sheffield. Derby's main space measured 150 feet by 75 feet and even in a relatively small town, the Congleton Chronicle was thrilled to announce that the new drill hall would measure 100 feet by 50 feet. The drill hall in Spalding was relatively small: 60 feet by 30 feet.
Frodsham drill hall could seat 900 people, Swansea 1000, Eccles could hold 2000 and Sheffield could seat 2500 or an amazing 12000 standing.
The drill hall was usually entered through a pair of doors, generally 'sufficiently wide to admit the Volunteers in full marching order, four abreast'.
2
Some had entrances wide enough for horse-drawn transport and later, motor vehicles.
Alongside the main hall, various offices and stores were provided. Most drill halls had a small armoury, which may have had a powder magazine as Chester, Huntingdon and Bedford did, behind a fireproof door. Bedford accommodated a 3000 stand of arms and accoutrements, as well as stores in case of mobilisation, with bedding and clothing. Lincoln's stores included a number of small closets and storage for several hundred thousand rounds of ammunition. Other corps such as artillery, engineers and medical units had specific storage for their needs.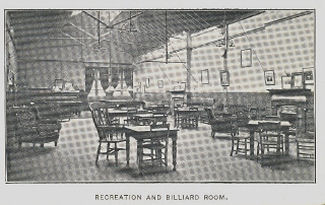 A drill hall may have been adjoined by areas provided for leisure and self-improvement, such as a reading room, a recreation room or a library. Congleton's recreation room was supplied with newspapers, books and games. Salford provided facilities for billiards and smoking. Plans for Frodsham have been hand- annotated and altered to suggest that ambitious intentions to provide toilet facilities were scaled down and simplified in the face of client unrest; perhaps they cost too much. Lincoln's lavatories 'and other conveniences' were attached to the gymnasium, which had 'every imaginable appliance for gymnastic exercises'
3
. It is clear that the intention to improve the lives of the men by exercise and education was considered a valuable part of their military training.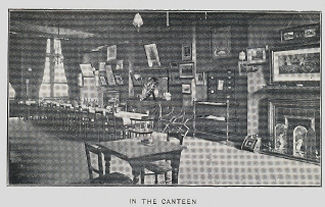 Catering facilities were often installed. Winsford's included a large kitchen and scullery with cooking ranges, ready to cater for banquets and tea parties. Bedford and Salford had a canteen attached. Lincoln had a soup kitchen 'fitted with coppers and every appliance for cooking food for large numbers of people', provided with the vision that the drill hall could feed the poor 'in times of great distress in the city'
4
.
Space was allocated where possible for firing practice. Grantham had a narrow rifle range at the side of the drill hall, running its length, Winsford had a practice gallery at its front, Lincoln had an underground Morris tube practice range, Abergavenny's firing range was underneath the drill hall, Congleton used a moveable target for musketry practice with a Morris tube and Somerset House, Westminster, had a Morris tube range fitted with vanishing and running targets.
The Morris tube was a device whereby a standard service rifle of .303" calibre was fitted with an insert that fired a round of smaller diameter and lower charge, allowing the men to become accustomed to the tools of their trade without recourse to a thousand yard range. Annual camp and regular competitions allowed use of the 'real' rifle, and cups and prizes were awarded for rifle skills.
Drilling practice took place outside where possible, in yards, fields or specially allocated grounds, which was one advantage for a Company which had its own drill hall rather than using loaned premises such as town halls or farmers' barns, which may have been small and cramped, or unavailable part of the time. However, as drilling often had to take place indoors, purpose-built halls were constructed with solid floors to deaden the sound of marching. Birmingham had a floor made from rolled clinkers. Lincoln is very specific; its floor was 'formed of wooden blocks 10 in by 2 1/2 in by 1 1/2 in, laid in pitch, on a solid foundation of concrete and cement. This deadens the sound of men marching an manoeuvring.'
5
A similar floor was recently removed in Southport as the drill hall was demolished. As some drill halls abut adjacent housing, or shops, this must have given a little relief to the neighbours.
Daylight is often admitted by long roof skylights with bars. Frodsham's specification required them to be 50 feet long by 7 feet wide. Gas pendants were used at Lincoln for artificial lighting, while incandescent gas lamps or lanterns were used in other halls. Heating was often by hot air apparatus, steam, hot water, or fireplaces with hearths.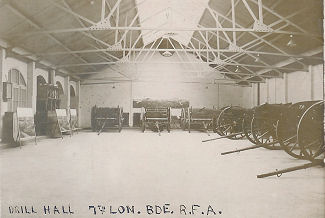 In the picture opposite the guns sit facing the panoramic targets used in drill, whilst their limbers are parked against the rear wall. The size of the hall is apparent, the picture suggesting offices and stores to the left side.
The picture is possibly that of the drill hall of 19th County of London Battery, 7th London Brigade, Royal Field Artillery. The unit was based at Wood Lane, Shepherds Bush, whilst the headquarters, 18th and 20th Batteries and Ammunition Column were at Fulham High Street.
Undated, it is most likely a pre-war photograph, as the unit was renamed CCXXXVII Brigade in 1916.
It was common for a drill hall to be cared for by a retired sergeant, who might also carry out some training, in exchange for accommodation. This is often a roomy two storey house adjoining the drill hall. Alternatively, the house may have been the home of the Sergeant Instructor or Sergeant Major.
Offices were invariably provided, in the form of Committee Rooms, offices for secretarial staff and rooms for the Adjutant of the Battalion.
Depending on the size of the drill hall and the requirements of its owners, other features may have included a band room with music stands and lockers for instrument storage, an armourer's workshop, a flag tower with an extensive view from which signalling could be practised, cellars, ladies' cloakrooms, a minor hall perhaps on another floor and sometimes with a stage, lecture rooms, baths, signallers' room, an ambulance room or a hospital, infection ward and mortuary.
Where units used horses, there was often a separate riding school, which in the case of Sheffield's Norfolk Barracks in Clough Road was on the first floor of the drill hall, approached by a wooden ramp!
Externally, the grounds of some drill halls included stabling, garden allotments, accommodation blocks for single men, married quarters, gun sheds, harness rooms, riding schools, storage for gun wagons, tennis courts or even a covered skating rink (for example, Leamington Spa and Reigate).
As the Lincoln Chronicle recorded in 1890 , 'Everything has been provided for and nothing has been overlooked.'
1 Congleton Chronicle 1905
2 Chester 1874
3-5 Lincs Chronicle 1890

Thanks to Peter Leonard for the archive pictures of the Drill Hall, Bunhill Row, London.