Most of the drill halls in Cheshire were connected to the Cheshire Regiment and Cheshire Yeomanry. The county town and administrative centre was Chester.

Cheshire is a lowland county, edged by the south west Pennines and the Flintshire-Denbighshire hills. It is separated by the River Mersey from Lancashire. Historically it has always been a gateway through which communications by road, canals and rail from mountainous areas of Wales and the Lake District can reach the more fertile areas of the English Midlands. Much of the county is a plain, with gentle hills, ancient woodlands and sharp sandstone ridges.

Cheshire has been famed for its cheese since Middle Ages, but the increasing urban markets in the nineteenth century led to the expansion of dairy farming. Thus, it was a predominantly rural, agricultural county, with many small villages and a few small market towns in the centre and south. This is reflected in the fact that in many places, local men would have trained in drill stations, rather than drill halls.

Characteristically, many of the original Cheshire houses were half timbered houses with black timber frames and white plaster walls. Some of the drill halls are constructed from local sandstone which has a reddish colour and gritty texture.

Salt has been extracted in central Cheshire since Roman times. However, the industrial and residential belt at the north edge of the county had been growing in the 60 years prior to the Great War, while the rural population remained stable. Cheshire industries included salt production and chemicals in the centre (Northwich, Winsford and Middlewich), silk in Macclesfield, soap, chemicals and leather in Runcorn, shipbuilding round Birkenhead, engineering and textiles round Stockport and railway engineering in Crewe.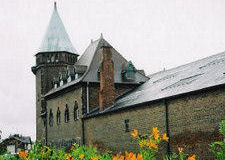 Stockport
Adlington
Alderley Edge
Aldford
Altrincham
Appleton
Birkenhead
Bollington
Cheadle
Chester
Congleton
Crewe
Eaton
Egremont
Farndon
Frodsham
Great Budworth
Great Neston
Hadfield
Hale
Hartford
Heswall
Hoylake
Hyde
Kelsall
Knutsford
Leftwich (Northwich)
Liscard
Little Sutton
Lymm
Macclesfield
Middlewich
Nantwich
Northwich
Parkgate
Pulford
Runcorn
Sale
Sandbach
Seacombe
Stalybridge
Stockport
Tarporley
Tattenhall
Tranmere
Warburton
Wilmslow
Winsford
the first attempt at content
Introduction
About
Anatomy
Drill

Database

Memorabilia
Glossary
Saving Halls
Contact
What's New?
Terms of Use
The Drill Hall Project - Charting a neglected legacy