A north Midlands county, Derbyshire is bordered by Yorkshire, Nottinghamshire, Leicestershire, Staffordshire and Cheshire. Its county town is Derby. The Pennines run through the northern part of the county, reaching about 1800 feet in the Peak District; and the southern part is much flatter, as it is the area where the Rivers Dove and Derwent run into the Trent. The northern part is particularly pretty and spa towns such as Buxton and Matlock catered for visitors seeking the health benefits at the resorts. Chatsworth and Haddon Hall were very popular excursions.
In the era just before the Great War, Derbyshire had a productive mineral extraction industry: apart from coal, limestone, gypsum, gravel and sand, its Blue John (fluor spar) was much used for ornaments. The barren, wet, upper parts of the county were not suitable for much agriculture, but the south was considered rich land and dairy farming was quite extensive.
In 1911, Derby was by far the largest town. Its population was 123,433; Chesterfield's was 32,479 and Glossop was 21,688. A lot of industrial activity took place round Derby itself: its textiles included silk, calico, cotton and lace and it was also known for candlewicks, paper, firebricks, wrought marble, gunpowder, sickles, scythes, spades, shovels, needle and combs. Other centres of industry included Belper, Glossop, Chesterfield, Duffield, Dronfield, Eckington, Bakewell, Ironville, Hathersage and Staveley. There was also, apparently, much malting and brewing.
Communications were good. Apart from the pretty rivers in the Peak District dales, there were some major rivers including the Trent, which was navigable for 31 miles in Derbyshire and the Derwent, which was navigable for 65 miles below Derby. There were several canals, including the Trent and Mersey and the Derby. A good railway network meant that most parts of the Midlands were accessible, and thence some of the major cities, such as Manchester, Liverpool, Leeds, Birmingham, Glasgow and London.
Kelly (1911) notes that Derbyshire was 'the depot of the Sherwood Foresters (Nottinghamshire and Derbyshire Regiment)'. For more details of the units whose headquarters were in Derby, please visit the Derby page. The infantry units formed part of the North Midland Division.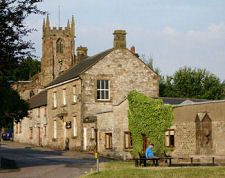 Hartington's drill hall, viewed from the green