<
Nottinghamshire was the home to the Volunteer battalions known as the Sherwood Foresters and parts of the Notts and Derby Regiment.

It is in the east Midlands of England. A low-lying county in the valley of the river Trent, some of the area drains as fenland, but the Sherwood Forest area comprises undulating higher land and attractive woodland scenery. The climate tends to be dry, as the county is rather sheltered by the Derbyshire hills. Kelly remarks that 'seed-time and harvest are therefore earlier than in the other northern shires'.

Many abbeys and castles were built in the area during the Middle Ages. Remains of some of the significant ecclesiastical establishments, such as Southwell and Nottingham, still existed at the start of the twentieth century, but some of the important castles, including Newark and Nottingham, were largely dismantled in the English Civil War. One of its most famous figures was the outlaw Robin Hood, who is supposed to have inhabited Sherwood Forest in the thirteenth century with his band of merry men and Maid Marian, armed with bows and arrows, illegally hunting the King's deer, fighting tyranny and robbing the rich to give to the poor.

Nottinghamshire's main river is the Trent. This was complemented by navigable rivers and canals, so that the county was linked by water to the whole of the rest of England. There was also an extensive railway system and communications with the rest of England, including London, were good. The Trent was a main trading route for much of the area.

Many of the men who served in the Great War would have worked in the mining and extraction industries. There was a coalfield in the south west of the county, in the Mansfield area. Sand, gravel and clay were quarried in the same region; and gypsum was extracted in the north. Paving stones, limestone, bricks and plaster (at Newark) were important products. There were some blast furnaces and smelting near the coalfields.

The city of Nottingham was the heart of the stocking trade. The county was also known for its lace, framework knitting, thread, bobbinet, silk, worsted and cotton industries. Some of these were carried out even in the villages as well as in the small towns.

A lot of corn was grown in the county, but some cheese was also produced. Nottingham Goose Fair at the beginning of October was renowned. It was an important fair for cheese and cattle.

The county town is Nottingham, which was one of the largest towns in England at the beginning of the twentieth century. Its population was twice that of the other major town, Basford and three times that of Mansfield. Of the county population of just over 514000 in 1901, nearly 240000 people lived in Nottingham itself.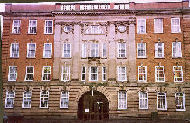 Nottingham
the first attempt at content
Introduction
About
Anatomy
Drill

Database

Memorabilia
Glossary
Saving Halls
Contact
What's New?
Terms of Use
The Drill Hall Project - Charting a neglected legacy