Oxfordshire is an inland county which borders Warwickshire, Northamptonshire, Buckinghamshire, Gloucestershire and Berkshire. Its peaceful landscape with gentle hills reflects the characteristics of the rich red soil in the north of the county, the limestone in the middle and the sandy loam on chalk in the south east. There are numerous rivers, the most famous being the Thames (or Isis) and the Cherwell.

At the beginning of the twentieth century, Oxfordshire enjoyed good communications with the rest of England. The Oxford canal linked the county with Warwickshire and thence Coventry, the Thames reached London and beyond and the extensive railway networks connected many small towns in the county with most of the south of England and north to Birmingham.

Kelly notes the healthy climate but remarked that it was cooler than the rest of southern England. Oxfordshire had a flourishing agricultural industry: cereals (e.g. wheat, barley, oats), pulses (lentils), vegetables (e.g. turnips, cabbages, carrots, potatoes, chicory, rhubarb), rich meadows on which cows were reared and cheese produced, some sheep on the hills and 'good hogs'. Many of the towns' fairs were predominantly for the sale and purchase of animals and for the hiring of servants.

Oxfordshire was famous for the blankets made at Witney, small engines and agricultural appliances (Banbury - which was also famous for its cakes), gloves (Woodstock), tweed (Chipping Norton), for paper-making in the mills on the banks of the Thames, country women's domestic lace-making and chair-making and wood-turning in Stokenchurch and Chinnor. It was also the proud home of a prestigious hospital, the Radcliffe Infirmary in Oxford.

The county town is Oxford, a beautiful city famous for its historic, distinguished university, the oldest in the English-speaking world. Teaching existed there in 1096 and the oldest of the colleges (University, Ballliol and Merton), were established between 1249 - 1264. Other principal towns include Banbury, Bicester, Chipping Norton, Henley, Thame, Witney and Woodstock, but many communities lived in small villages and their men trained in drill stations. in 1901, Oxford's population was by far the largest, at just under 50000 followed by Banbury (12968).

Volunteers from Oxfordshire formed part of the South Midland Infantry Brigade (Kelly 1907).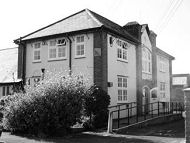 Woodstock