Rutland is the smallest county in England, with dimensions of about fifteen miles from north to south and the same from east to west and a population of 19706 in 1901. Its borders are Leicestershire, Lincolnshire and Northamptonshire.

Kelly, 1901, notes very good rail communications and a network of 300 miles of roads.

With air described as 'healthy' , gentle hills and fertile soil, Rutland was essentially rural and the local directories record many people working on the land in dairy or arable farming and in the services which supported agriculture. It seems to have been known for barley, oats, sheep, turnips and Stilton cheese; and the remains of old forests were a source of timber. There were monthly cattle fairs in Oakham and fairs twice a year in Uppingham.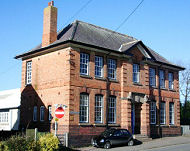 Oakham
the first attempt at content
Introduction
About
Anatomy
Drill

Database

Memorabilia
Glossary
Saving Halls
Contact
What's New?
Terms of Use
The Drill Hall Project - Charting a neglected legacy