Worcestershire is a rich, fertile, wooded county in the west Midlands of England. It is bordered by hills; the south west border is the Malvern Hills and to the south are the Bredon hills, which extend from the Cotswolds. The River Severn runs through the county, joined by the Stour at Stourport and the Teme near Worcester.

Records state that the Severn, which is navigable for 180 miles, was capable of navigation by 80 ton ships to Worcester and 60 ton ships to Bewdley. There is also an extensive canal network, communicating with the Grand Trunk canal and linking with adjoining counties to connect the Severn with other main rivers. At the time of the Great War, the rail network was excellent, belonging to the Great Western and Midlands systems, linking Birmingham to Bristol and via a branch line through Stratford to London.

In 1910, Worcestershire was rich in minerals and mineral-based industries. Coal was worked in the north west. There were brine springs in Droitwich. Iron works and blast furnaces were located in the north, including Oldbury and Halesowen. The Stourbridge area was known for its fire clay and bricks.

The deep, rich soil and mild climate is ideal for cultivation. Cereal crops, hops and fruit were extensively grown and the area around Evesham was renowned for its market gardens, orchards and cider production.

At the turn of the century, Worcestershire's manufacturing industries included carpets at Kidderminster and Stourport, china and ceramics (Worcester), bricks, baths, clay products and glass (Stourbridge), needles, fish-hooks and fishing rods (Redditch), iron bridges and general engineering (Dudley), nails, rivets, horse shoes, chains and screws (Netherton), kitchen ranges, brushes, brooms, carriages, harness and gloves (Worcester) and extensive nurseries producing shrubs, ornamental trees, flowers and fruit trees.

Malvern was famous as an 'improving watering place' with a healthy climate.

The county town of Worcestershire is Worcester.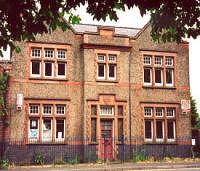 Stourport Drill Hall
Badsey
Bewdley
Bromsgrove
Camp Hill
Droitwich
Dudley
Elmley Castle
Evesham
Fladbury
Halesowen
Kidderminster
Kings Heath
King's Norton
Kinver
Leigh Sinton
Malvern
Pershore
Redditch
Rubery
Stoke Works
Stourbridge
Stourport
Tenbury
Upton-on-Severn
Witley
Worcester
the first attempt at content
Introduction
About
Anatomy
Drill

Database

Memorabilia
Glossary
Saving Halls
Contact
What's New?
Terms of Use
The Drill Hall Project - Charting a neglected legacy