In the early twentieth century, Anglesey was far less populated than it is now and there is little mention of drill halls. Royal Welsh Fusiliers' maps show drill halls in 1947 at Holyhead, Llangefni, Beaumaris and Menai Bridge. The Curator of the RWF is of the opinion that the location of drill halls in 1947 was unchanged since prior to the Great War. As the island is rural, it is likely that the Volunteers drilled in premises such as church halls rather than purpose built drill halls, although there are no records to substantiate this.

The military presence on Anglesey appears to have comprised a Territorial Unit and the Royal Anglesey Royal Engineers.

The project would be very grateful for any information about drill halls in Anglesey, extant or demolished.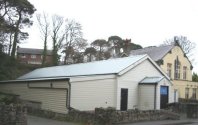 Menai Bridge
the first attempt at content
Introduction
About
Anatomy
Drill

Database

Memorabilia
Glossary
Saving Halls
Contact
What's New?
Terms of Use
The Drill Hall Project - Charting a neglected legacy