While Denbighshire includes the industrial and mining areas around Wrexham and some of the popular coastal resorts area, many of the towns and villages are dispersed among the gentle river valleys such as the Clwyd and the more dramatic Berwyn range round Llangollen.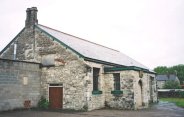 This is reflected in the dispersal of the drill halls, where some are small and insignificant, such as Ruthin; and some are proudly idiosyncratic large premises such as Denbigh. Both are still a part of their community.
Within the industrial area itself, many drill halls seem to have fallen victim to later twentieth century development.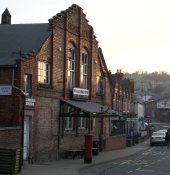 Denbigh
the first attempt at content
Introduction
About
Anatomy
Drill

Database

Memorabilia
Glossary
Saving Halls
Contact
What's New?
Terms of Use
The Drill Hall Project - Charting a neglected legacy